Press kit
Thank you for your interest in Black Hat Cooperative. Here is info that could be handy if you'd like to write an article or learn more about Black Hat Cooperative. If there is any other info you'd like, please let us know!

​
Fact Sheet
Developer: Team Future, founded in Boston, MA 2014
Release date: June 22, 2016
Available at: Steam and Oculus Store
Price: $9.99
Description
Black Hat Cooperative is an award-winning stealth game that pits you and an ally against robot agents that seek to remove you from the system. Explore complex levels filled with hidden dangers and work together to survive.
Asymmetric Gameplay
Play as Hammer and sneak past agents, collecting treasure, keys, and passwords along the way. Or play Spice to get the bird's eye view and guide your partner to treasure and safety. Information in the world and on the map must be pieced together to beat the levels.
Hacking Superpowers
Spice can use a hacking terminal to unlock special doors and freeze or blind enemies. But these superpowers require teamwork. Hammer must collect in-world "bits" and scan enemies to enable hacking.
15 Challenging Levels
Each level is crawling with robot agents including the grunt, captain, king, or the hunter, who can sniff out your trail and chase you down. Environment challenges like laser traps and sound-detecting alarms keep you on your toes.
​
HARdware
Black Hat Cooperative can be played with the Oculus Rift, or with dual monitors. Hammer is in VR and plays with a gamepad, while the other player uses the computer's display, mouse, and keyboard. We plan to support the HTC Vive in an upcoming release. ​
Trailer
Gameplay

SCREENSHOTS
Art & Logos
​​press
Rooster Teeth
Saudi Gamer
awards
Mass Digi 2015: People's Choice

Boston FIG 2014: Best Technical Quality and Best Multiplayer Awards




Exhibitor at PAX East, Engadget Live



Credits
Core Team:
Mark Sullivan III
Rick Cody
Xin Xin
Adalberto "Nick" Garza

Audio Contributions:
Josh Kipersztok
Renzo G. Heredia

Special Thanks:
Sean Liu
Jenna Hoffstein
Powered by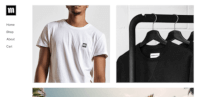 Create your own unique website with customizable templates.